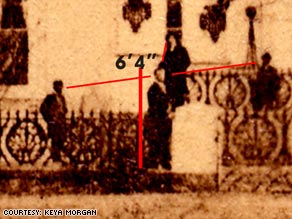 THE OBAMA EFFECT
An expert on Lincoln photography thinks a photograph found in Gen. Ulysses S. Grant's family-owned album showing President Abraham Lincoln in front of the White House could be one of the last photos taken of the 16th president before he was assassinated in 1865.
Grant's great-great grandson Ulysses S. Grant VI had seen the previously unpublished image in the general's personal photo album, but didn't think much of it until he scrutinized it earlier this year.
Morgan, who owns the world's largest collection of Lincoln artifacts and original photographs, persuaded Grant to take the small photo out of the album to see whether any clues could be found on the back — particularly the name of the photographer.
"If you don't know who the photographer is, it's like not knowing who your father and mother are," Morgan said.
Sure enough, the seal of photographer Henry F. Warren appeared on the back, along with an inscription: "Lincoln in front of the White House," dated 1865. Grant recognized the handwriting as that of his great-grandfather and Gen. Grant's youngest son, Jesse Grant. Those indicators, along with a revenue stamp used from 1864-66 to raise money during the Civil War, helped convince Morgan that the photograph could be the well-documented missing photo from Lincoln's last "sitting."
According to Morgan — who cites Lincoln's secretaries John Hay and John Nicolay — Warren took the last three photographs of Lincoln on March 6, 1865, just two days after his second inauguration.
As one of only 130 photographs of Lincoln, it is an extraordinary find not only because of its proximity to Lincoln's death, but because it shows him in a natural stance.
"You could put yourself in the shoes of the people around [Lincoln] and see what it was like to live at the White House," said Morgan, who says he receives 10 to 20 requests a day asking him to verify potential Lincoln photographs.
Morgan, who purchased the photo from Grant, says he has received thousands of e-mails from Lincoln aficionados commenting on the find. His Web site, lincolnimages.com, received more than 5 million hits on Tuesday and crashed because of the traffic overload.
[mashshare]