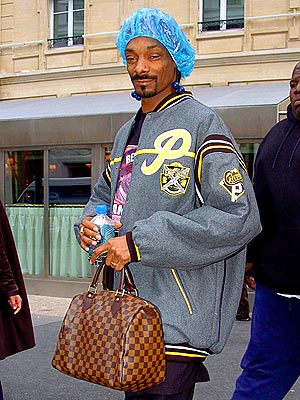 Didn't I just post some news on Snoop Dogg a couple days ago? And why the hell is he carrying a Louis Vuitton bag, wearing a plastic cap and blue knockers???  I missed something!
Hell, if I was an immigration minister I would be a little leary about this dude too (just from the looks of things). LMAO, let me find out he wearing high heels for reasons other than walking a mile in a woman's shoes.
Anyway,
US hip-hop superstar Snoop Dogg learned Thursday that Australian immigration officials are running the ruler over his criminal record to see whether he merits the visa he needs to join fellow rapper Ice Cube on an October tour. Snoop Dogg, whose real name is Cordozar Calvin Broadus, applied for a visa in July.
An Immigration Department spokesman said community concerns meant that a "full assessment of the character of Mr Broadus is required," despite his three previous visits.
The 36-year-old singer has twice been convicted of weapons and drugs offences and has been refused entry to Britain.
Snoop Dogg was last year denied an Australian visa on character grounds after pleading guilty to gun and drug charges in the US.
Kevin Andrews, the immigration minister at the time, said a record of criminality meant "he doesn't seem the sort of bloke we want in this country."
[mashshare]