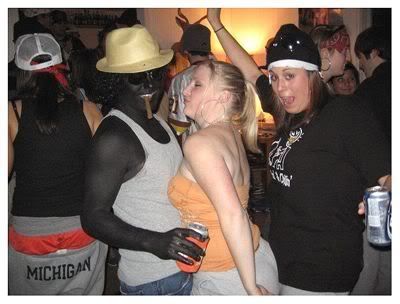 UC San Diego is in the hot seat after an off-campus student party, dubbed the "Compton Cookout," was deemed inappropriate and racist.
Campus administrators said they were investigating whether the party, held Feb. 15, and its Facebook invitation violated the university's code of conduct and whether its sponsors should be disciplined.
Members of the Pi Kappa Alpha fraternity were identified as being some of the organizers, but the fraternity president has criticized the event and said his club didn't sponsor it.
The real sponsor behind the event, Jiggaboo Jones, a man who considers himself to be the No. 1 Nigger in America took to his youtube channel to explain the event in greater detail, and respond to the racial backlash. He also released an official statement via comptoncookout.com.
"Hate mongering black people had told a pack of lies about our event stating that a White Fraternity and several members of the KKK threw a Racist party that made fun of black people. This lie was quickly soaked up by people with some kind of political agenda to spread hate and discontent among people who attend UCSD…." (read more)
In case you missed it, here's the dress code for the party, according to the invite:
For girls: For those of you who are unfamiliar with ghetto chicks — Ghetto chicks usually have gold teeth, start fights and drama, and wear cheap clothes — they consider Baby Phat to be high class and expensive couture. They also have short, nappy hair, and usually wear cheap weave, usually in bad colors, such as purple or bright red.
They look and act similar to Shenaynay, and speak very loudly, while rolling their neck, and waving their finger in your face. Ghetto chicks have a very limited vocabulary, and attempt to make up for it, by forming new words, such as "constipulated", or simply cursing persistently, or using other types of vulgarities, and making noises, such as "hmmg!", or smacking their lips, and making other angry noises, grunts, and faces.

The objective is for all you lovely ladies to look, act, and essentially take on these "respectable" qualities throughout the day.
In an e-mail to students and staff, UC San Diego Chancellor Marye Anne Fox said the party showed "blatant disregard of our campus values." She said the university would hold a teach-in Wednesday "to discuss the importance of mutual respect and civility."
To listen to Jiggaboo Jones vs. Professor Widenor on the Roger Hedgecock Show…
[mashshare]