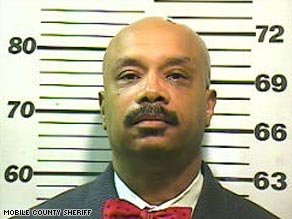 Pictured to the left, Judge Sodomy?
A former south Alabama judge is accused of checking male inmates out of jail and forcing them to engage in sexual activity including paddling, according to officials and court documents.
Former Mobile County Circuit Judge Herman Thomas was arrested Friday after agrand jury returned the indictments against him. He was released on $287,500 bond later Friday.
The indictments total 57 counts, and the charges range from ethics violationsto kidnapping, extortion, sex abuse and sodomy. If convicted on the most serious charge — kidnapping, a Class A felony — Thomas faces a prison sentence of 10 to 99 years in prison, Mobile County District Attorney John Tyson Jr. said Monday.
Thomas was arrested during that news conference; footage shows police walkingup to Thomas, tapping him on the shoulder and leading him into the adjacent jail building without handcuffing him. Later Friday, Clark was threatened with arrest after refusing to leave Tyson's news conference, according to CNN affiliate reports.
"The South hasn't changed all that much," Clark, described by theMobile Press-Register as "a longtime and flamboyant fixture of the Mobile defense bar," told CNN on Monday.
He said Thomas denies all the charges, and he questioned the credibility ofthe alleged victims. "Everybody that's listed in the indictment is either serving life for murder or some other horrible crime." Some have already recanted, Clark said, adding, "None of this is new stuff." He pledged he would "fight till the last dog falls."
Meanwhile, the Alabama State Bar said its disciplinary commission suspendedThomas' law license Monday.
The indictment returned Friday, posted on WKRG's Web site, offers few detailsof the alleged offenses but makes several references to Thomas forcing people to expose their buttocks "to paddling and/or whipping."
The posted indictment had names of the alleged victims blacked out. But eachof the nine alleged victims was in Mobile County Circuit Court on charges ranging from criminal mischief to murder, according to the Press-Register, which cited court records.
One of the inmates, according to the newspaper, went before Thomas onmultiple occasions and faced several felony charges. He was sent to prison for a short time, but Thomas ordered him released early, according to the Press-Register. He was sentenced in federal court and later released and has since been accused of murder and attempted murder.
During Thomas' judgeship, he had a storage room furnished like an office nearhis eighth-floor chamber at Mobile's Government Plaza, the Press-Register said. Several criminal defendants have alleged, in affidavits and in court, that Thomas asked to paddle their buttocks in the room, and some said he suggested sexual encounters there, according to the newspaper.
[mashshare]