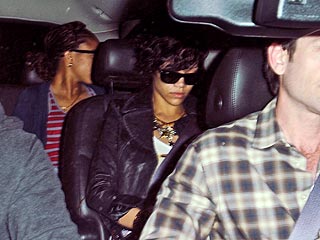 Photo to the left is the most up-to-date pic of rihanna taken around the same time as her actual injury pic surfaced on the internet.
Rihanna spoke out for the first time since allegedly being assaulted by Chris Brown, issuing a statement of thanks to her fans.
"At the request of the authorities, Rihanna is not commenting about the incident involving Chris Brown," says the statement from her rep on Friday. "She wants to assure her fans that she remains strong, is doing well, and deeply appreciates the outpouring of support she has received during this difficult time."
The statement comes on her 21st birthday and a day after she was spotted in Los Angeles after spending nearly two weeks in seclusion.
The singer was photographed Thursday heading to an airport the same night a graphic photo reportedly showing her battered face surfaced on the Internet, upsetting her father, who criticized police for their "sloppy work."
Prior to the statement, neither Rihanna nor her representatives had commented since the arrest of Brown, 19, on Feb. 8
On Friday, friends in Rihanna's native Barbados marked her birthday by taking out an ad in the local paper wishing her a happy 21st "amidst all the negativity about Ri Ri. God will continue to bless her."
"I just really love that girl," Sharon Thompson, who bought the birthday greeting, tells PEOPLE. " Some nights I cry because of what I'm hearing. It has me deeply hurt. She's just so lovely."
[mashshare]