UPDATE (Sept. 10): During a recent interview with Power 953 radio, President Barack Obama addressed Nicki Minaj and her recent claim for republican status on a 'Mercy' remix track she recently did with rapper Lil Wayne. During her verse Minaj stated she would be voting for presidential candidate Mitt Romney in the upcoming election. And, just like most of the democrat world, President Obama is confused by her role and where she really stands on the matter.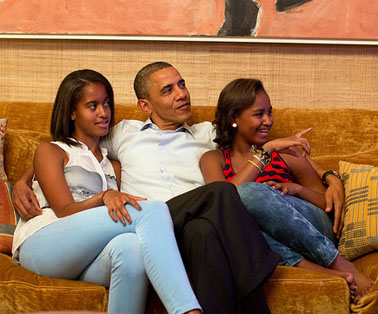 "I'm not sure that's actually what happened. I think she had a song on there; a little rap that said that…. She likes to play different characters. I don't know what's going on there."
Nicki responded to President Obama's comments via her Twitter page saying: ""Ha! Thank you for understanding my creative humor & sarcasm Mr. President, the smart ones always do… *sends love & support*" She concluded by saying, "Thanks haters!" she added, "Lmaoooooooooooooooooooooooo. #BarbzWinAgainahahhahaahhahahahahhahahahhahahahahhahaha!!!!!!!!!!!!!!"
September 4, 2012: Rapper Nicki Minaj has the internet going nuts with the latest lyrics to the song "Mercy," which makes claims that she's a republican and plans to vote for Mitt Romney in the upcoming election.
"I'm a Republican voting for Mitt Romney, you lazy b—-es are f—ing up the economy," she raps to the rhythm of the remixed beat.
Considering Minaj's M.O. for making money by any means necessary (good or bad music), AND her split personality, it's hard to say whether she's simply creating buzz, or if she really has had a change of heart. In 2009, Minaj rapped the lyrics that may have suggested she was fascinated with Obama. "Michelle, I got my eye on Barack Obama," she said.
Those lyrics now make you wonder what she really meant.
[mashshare]